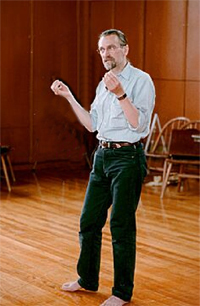 Rev. William Charles Freeman, PhD, BC-DMT
(Board Certified – Dance/Movement Therapist) Vermont, USA
William has guest taught on three VMT Foundation Trainings on Martha's Vineyard, USA, and has acted as on-site supervisor for two VMT students during their internships in Vermont, USA, in consultation with Anne Brownell, VMTR as general supervisor. He is a movement therapist and consultant, specializing in work with children and adults with disabilities, their families and those who serve them.
For over thirty years, William has designed, directed and facilitated professional development, parent education and direct service programs in movement therapy and the expressive arts. He maintains a practice with individuals with and without disabilities and provides consultative services and teaching for education, mental health and arts agencies. He conducts seminars for professionals and parents, and retreats for individuals interested in personal growth and spiritual development through movement and the expressive arts.
William served as a program coordinator and director in the Special Education Administration Section of the Kansas State Department of Education. Expanding on this work, he served as the founding executive director of Accessible Arts, a not-for-profit educational organization, dedicated to making the arts accessible to all people, including individuals with disabilities. Working with children with significant disabilities, those at risk and their families, he also served as a special education consultant to several Vermont school districts.
William is the executive producer and writer of the videofilm, You're Okay Right Where You Are: Expressive Movement in Education, and has also worked on several other videofilms focused on movement and expressive arts. He also taught and developed programs in movement and expressive arts at Goddard College, the University of Vermont and elsewhere.
William is ordained in the ministry of Divine Science, is a certified spiritual director from the Institute for Spiritual Development and is a graduate of the Theology and Pastoral Ministry Program (Master of Arts) from Saint Michael's College. He is co-founder and co-minister of New Thought Vermont: Divine Science in the Green Mountains, and served on the Board of the Divine Science Federation International from 2006 – 2010 (Vice President 2006 – 2008 and President 2008 – 2010). He is a member of the Board of Trustees of the inter-denominational Weston Community "Church on the Hill" and chairs its Long-Range Planning process. He also served as a consulting minister to the Divine Science Church of Crestwood, Missouri (2008) and The First Universalist Parish of Chester, Vermont (2004 – 2005).
Active in community ministry, throughout his career as therapist, program developer and administrator — teacher, consultant and minister, William has been focused on supporting individuals as they seek to move from the Divine Source and express the Divinity that lies within. He has an abiding interest in finding ways to combine his therapeutic knowledge and skills as a movement therapist with his interest in the life of the spirit and spiritual direction and is in the process of creating his own Ministry of Movement.
Dr. Kim Cutter
Cape Town, South Africa
Mary Law
Norfolk, UK
Barclay McMillan – 2019
[email protected]
https://voiceemergent.com
Barclay developed a programme called LifeSong, based on Paul Newham's work. Barclay ran his program for about 25 years in Ottawa, Ontario, in Canada.
Sheila Braggins: 1928 – 2014
London, UK
(please go to TRIBUTES page for further information)
Norma Canner: 1918 – 2012
Massachusetts, USA
(please go to TRIBUTES page for further information)