LIBERATION COMPASSION VALIDATION CREATIVITY FORGIVENESS HOPE —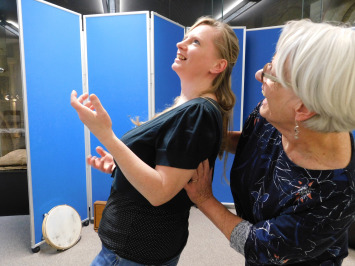 These are some of the key words and concepts that VOICE MOVEMENT THERAPY (VMT), has given me that I have embraced, (or have embraced me), that I have sung and still, constantly, sound and sing from the depths of my being. I can truly say that what VMT has sparked in me has been life -saving, life renewing and has gifted me healing and wholing: deeply embodied, imaginal, emotional and spiritual.
All this through the power and exploration that VMT offers, which emerge from its basic core principles.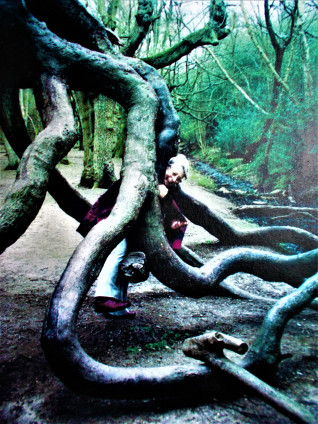 These are developed through the physicality of the body, within itself and in space.
I love the clarity of the metaphorical / acoustic Vocal tube which gives clear access to different qualities of voice, all of which are available regardless of gender. I love the concept and actuality , of the body in a Sphere in space. Initially as a safe place for oneself, it can become an echo chamber for sound, a medicine sphere, a space from which to explore relationship both with others and oneself. The possibilities are manifold, as I am discovering still, twenty years on from my training.
I love the developing sensitivity to the body's physicality : the involuntary muscles where impulse breath, sound begins; the more tangible muscles which are encouraged, with touch , movement, breath and sound, to let go of tension that impedes.
VMT dares to seek and encourage "The beauty of the dared expression" (Marita Gunter, pupil of Alfred Wolfsohn). This is such an all encompassing, liberating , compassionate statement. As I allow my voice, my very human voice, to express my feelings and emotions: anger, grief, joy , hope—– it is absolutely exhilarating and wonderful to recognise the strength and beauty, both dark and golden, of the human experience. The authenticity, the spontaneity of non-verbal sounding, made very available with the different timbres resonating within the Vocal Tube, allows me to be grounded in the present moment. Thus I come to know, accept and validate myself with understanding and compassion. Also, through sounding outward expression, I let go of and liberate much that has been suppressive emotionally and psychically, giving space to new awareness and discovery.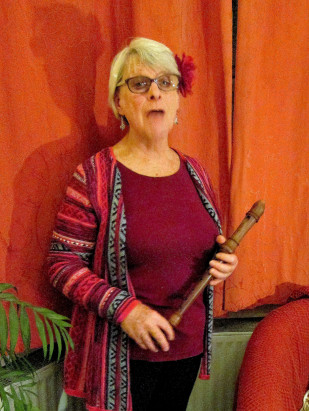 As well as "free voicing", VMT has given me confidence to sing and perform composed songs of many different genres, with a depth of connection that I might not have found. Actually would not have found, as it is through VMT that the songs have found a path to connect with me! I feel very free both to sing songs in my own way and to fit with the needs of a group or choir.
I have loved – and still love- bringing my spontaneous voicing into words, in song, in poetry—words give deep inner connection a strong structure to share with others. For me it seems that the mirror of human experience and human becoming are strong urges. Thank you VMT for opening my life so very deeply and purposefully.
"So bright soul's mirror,
I can barely see,
So much light pouring out to me,
Can I really dare to know why I am here—-?"
From my song "SOUL'S MIRROR" 2018
By Veronica Phillips
Registered Voice Movement Therapy Practitioner
Copyright 2018 by Veronica Phillips. All rights reserved.