This blogpost features Gina Holloway Mulder, VMTR and IAVMT member concerning what she is doing in her practice and her thoughts on the work of VMT.
"I am often asked the question "what do you do?"… I use my understanding of the integration of bodymind and voice to help others to re-claim their voice, free their body, empower themselves and ultimately to thrive."

-Gina Holloway Mulder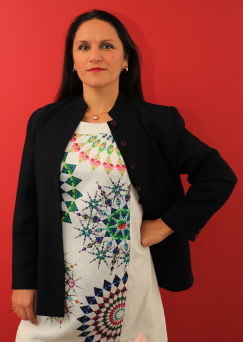 Gina has a VMT practice in Durban, KwaZulu Natal province, in The Republic of South Africa and also consults in Johannesburg. She was introduced to VMT when she came across Paul Newham's book Using Voice and Movement in Therapy, which led her to take the 2005/06 Voice Movement Therapy (VMT) training with Anne Brownell and Christine Isherwood on Martha's Vineyard USA. Gina had worked in voice coaching for speaking and effective communication training and as a choreographer and movement teacher before VMT. Gina said she had felt as if she was living in two worlds: the voice world and the movement world. VMT allowed her to integrate both into her practice immediately when she returned to South Africa after the training. Today Gina runs private and group sessions, workshops and retreats in South Africa and abroad. She is currently working on a book about VMT 10 Vocal Components, and has other writing projects in the pipeline.
Gina describes herself as an empowerment catalyst:
"I spark the change, the realization, the dream into the potential of what the individual can be, is, and wants to be. Empowerment catalysts, that is what we are doing as VMT practitioners; empowering people to claim their voices. If you don't have your voice you are not empowered, no matter what official title you hold in your work or social context."

-Gina Holloway Mulder
Gina identified four primary challenges in expanding the VMT work in South Africa.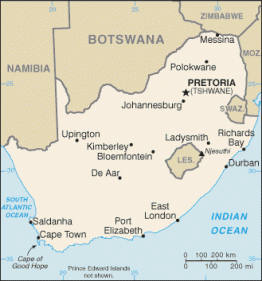 Firstly, South Africa does not have a culture of therapy and self-development. Therapy is regarded as a luxury or sought only when people are in crisis. Secondly, VMT is very different to traditional approaches to psychological work, and although people engage in the arts, dance, and singing, the idea of integrating these into therapy is a foreign idea. Thirdly, there are financial barriers. Gina said, "People find it difficult to pay for therapy. For the practitioners the cost of marketing your services and hiring space is quite high. Lastly, we have the need for an official structure or organisation that can represent practitioners, something that shows we are not just individuals but belong to something bigger."
Gina believes, however, that there is a great opportunity in the South African (and international) business and empowerment context. Since South Africa's democracy there has been great emphasis placed on the financial empowerment of back South Africans and many people have been 'fast-tracked' into influencial positions however, in her experience, these people sometimes gravitate towards a sense of false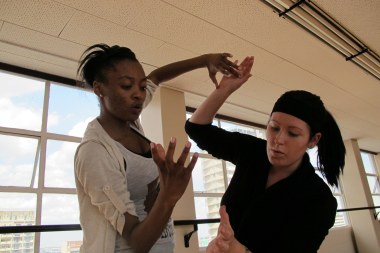 empowerment because they still do not have their voice.
Gina runs workshops with corporations as diverse as banks and tech companies in South Africa and abroad. Gina said, "Getting into corporations was initially a challenge because, although HR departments talk about wellness and empowering employees, very often they are afraid that if staff actually claim their voice, if they speak up and speak out, they will challenge the status quo. There is a huge risk involved in allowing people their voice." However, Gina believes that it is only in encouraging people to claim their voice and place in the organisation that they will be able to take ownership, really engage with the business and others, be productive and even find joy in their work environment.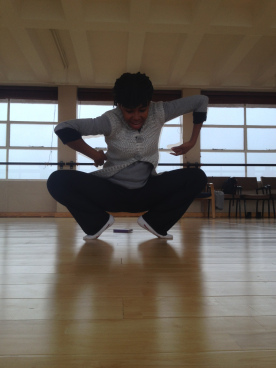 She said, "In my work I offer people tangible and embodied tools that they can apply in the moment of communicating, no matter what situation they find themselvs in. That is one of the things that is different in VMT in comparison to other therapies and also to other corporate and communication trainings; the client or employee leaves immediately with tools they can practice; therefore they feel empowered very early in the process. Once people make the connection between voice and the bodymind, it is so evident, such an undeniable truth, that they simply cannot undo it."
Using and exploring the voice is not easy, even sometimes for performers. Gina said, "Sometimes clients come to VMT and state upfront that they don't want to work with their voice. We work where the client is comfortable and gently guide them towards their voice. But it is when they get that it is the alignment of voice, bodymind and soul that results in transformation, and they are able to make strides in their process. It is then that they find vitality, find a real connection with others. The work really refuels vitality and energy, and give you access to life."
Gina traveled in January 2019 to The People's Republic of China to assist in the VMT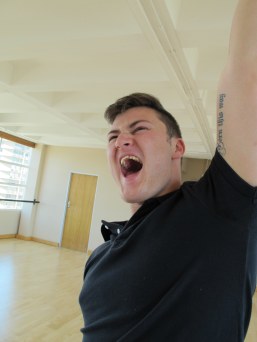 training Level 1 with instructor Christine Isherwood VMTR. Gina said, "I really appreciate our South African democracy. Our culture does encourage people to have a voice, to question authority, to speak out about injustice. There is a huge potential for the growth of VMT. Democracy in South Africa holds people's voice at its core. She said "there is a window of opportunity; now we need to find where the sustainability is."
Gina said a new exciting prospect in South Africa is emerging through a group of passionate people called the Community of Practice (CoP). Recognising the mental health crisis, it is an umbrella organisation to support practitioners engaging with expressive arts therapy, art therapy, drama therapy and music therapy, and others who use the arts in social, educational and psychology programs. "It is creating for us a network of like-minded practitioners, and will offer VMT an avenue to market our programs and educate people about what we do. Some organizations that are involved have managed to align with universities and overseas funders. Belonging to the CoP will strengthen the chances for VMT's growth. The CoP will also add further credibility to us as practitioners. VMT is still an unknown; " the more exposure the better" Gina added.
Gina is a big supporter of the IAVMT. She said, "The IAMVT is an inspirational organization that connects us and keeps us focused. Without this structure in place I fear we would disperse. The IAVMT is vitally important for the practice to continue to grow and I am passionate about finding ways to ensure that we do."
Gina served on the International Association for Voice Movement Therapy Board of Directors as Vice President (2013/2014), as President (2014/2015) and as Secretary (2018/2019). She has edited two PVMTJ journals. In January 2019 Gina assisted VMT master trainer Christine Isherwood in teaching level 1 of the VMT professional training in the People's Republic of China.
Interview and copy by Erika Hahn, M.A.
Edited by Gina Holloway Mulder and Veronica Phillips
Contact information:
Gina Holloway Mulder,
Therapy Website: http://www.voicemovementtherapy.co.za
FB page https://web.facebook.com/bodymindvoice/
Business Website: www.voice360.co.za
Phone 27 (0) 84 827 8481
Email [email protected] or [email protected]