Here are some reports of activity from some of our IAVMT member VMTR Practitioners in the United Kingdom, Czech Republic, Australia, and United States of America.
Header image original art work by Lucinda age 9, from P. Garner's "Artism" greeting card collection. Copyright 2018
---
---
---
News from United Kingdom
From Melanie Harrold, VMTR, CPUK, London, UK
Touring with Daphne's Flight* in September was exhilarating .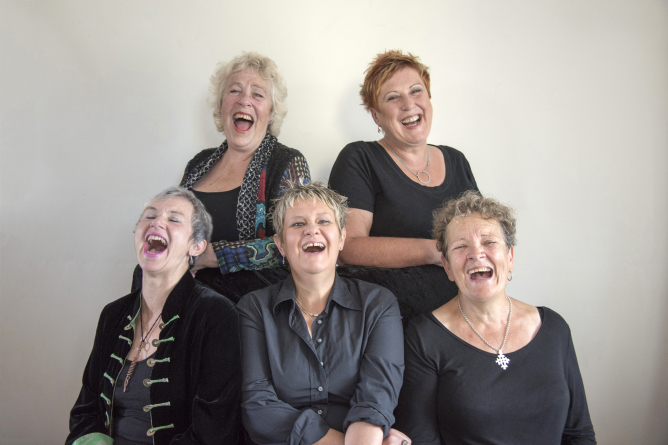 I can't believe my luck that I made it back to performing in good quality theatres with my contemporaries. Very tiring though, so I took it easy in the autumn just working with one of my choirs.
"Daphne's Flight … a collaboration between five of the most highly regarded female vocalists, instrumentalist and songwriters in the British folk and root music scene: Christine Collister, Melanie Harrold, Julie Matthews, Helen Watson and Chris While." -Wikipedia
Now as January begins I am looking at an exciting schedule. My two choirs are off on projects again. The all female choir Trade Winds is welcoming a German choir for a musical exchange, our voice against Brexit, albeit in a small way.
I am starting another project with my other choir Vocal Chords called Hope and Reconciliation choosing songs that speak of the conversations we can have after the conflict is over.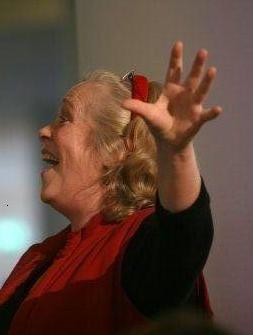 In August Daphne's Flight has festivals booked and we are making a new recording then we will tour again in May 2020. That might be it then, I have been thinking if we were lucky we could get five years of making music together. Let's see, it is such a challenging and inspiring project.
In the middle of all this I am trying to create a regular space for my own writing, showing up for a period of time each week then sharing this with one of my Daphne colleagues.
So that is me. Happy New Year everyone.
by Melanie Harrold, VMTR, UKCP, London, UK
copyright 2019, all right reserved
#DaphesFlight #Brexit #MelanieHarrold
---
---
---
From Veronica Phillips, VMTR, West London. UK
Through 2018
Much productive, positive time and energy supporting other VMT practitioners, plus copious 'admin' in my role on the IAVMT Board.
One to one work ever more totally absorbing; heart warming to hear people's voices gain strength and colour ; humbling witnessing the depth of individual change and soul connection; amazing recognizing and following the many different threads, needs and perceptions that each individual brings. Resonant, beautiful rewarding work. Thank you to you all.
"Power of the Voice " workshops exploring the capacity of voice to open to inner life through and alongside the voice's expanding colours, power and authenticity .
A workshop specifically for psychotherapists : "Exploring the Voice in Psychotherapy and Counselling."
A collaborative 2 day workshop with Sebastiana Black : " My Authentic Voice ".
Coming up 2019
1 day " My Authentic Voice ", Exeter, Devon, UK. Early Spring. Workshop.
Afternoons : "Power of the Voice", " Finding your Singing Feet." West London, UK. May / June.
2 days : " Living Love , Living Loss", "Earthing your Voice; Voicing the Earth". UK. SummerVeronica Phillips (R) with client.
" Archetypes through Story & Myth." UK. Autumn.
All of these have CPD attendance certificates.
I am embarking on a collaboration with an Art Psychotherapist & the Workshops for psychotherapist will expand.
By Veronica Phillips, VMTR, London, UK
copyright 2019, all rights reserved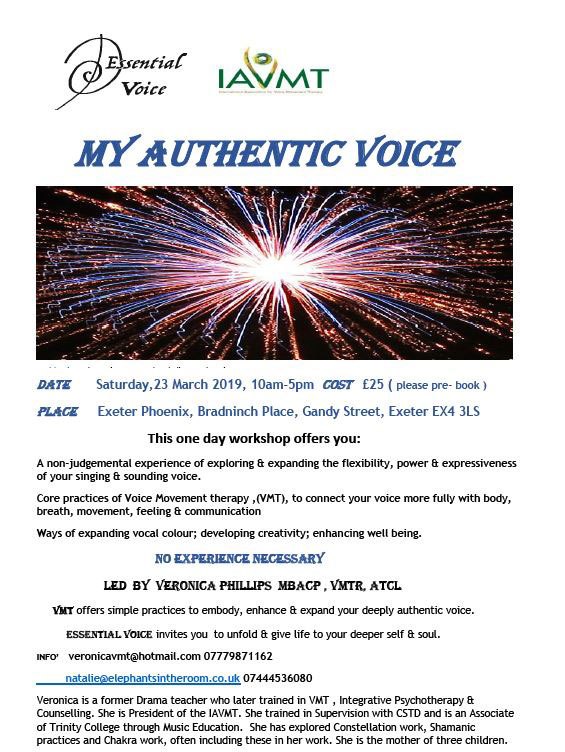 ---
---
---
News from Czech Republic & Norwich, East Anglia UK
From Sebastiana Black, VMTR, Norwich, East Anglia, UK
In 2018 my Voice Movement Therapy (VMT) work included short and longer workshops in Norwich, UK, and Czechia (Prague, Czech Republic and other locations), for the general public and and music and drama students, as well as individual work.
My beginning of 2018 was marked by sharing the video Introduction to Voice Movement Therapy produced by VMT practitioners.
One thing I have been integrating into my therapeutic voice practice has been working with transforming self-criticism into self-compassion and confidence. In this approach the client is guided to accept and explore the inner critic through the body, voice, and imagination, find its particular narrative and express it creatively. The critic feels understood and begins to loosen its grip. The client starts to build a new resource, a more caring presence that is compassionate and can eventually replace the critical part.
Sadly, most people that I work with don't like their voice or have a complex relationship with it. It often stems from emotional wounds connected to their creativity and sense of self. The outcome is that they feel free-er to enjoy their unique voice, body and self expression.
Other important integrations have been Mindfulness, somatic work, and Buddhist philosophy, which I hope to develop more in 2019, especially in terms of working with tension, breathing and bringing consciousness into the body and mind.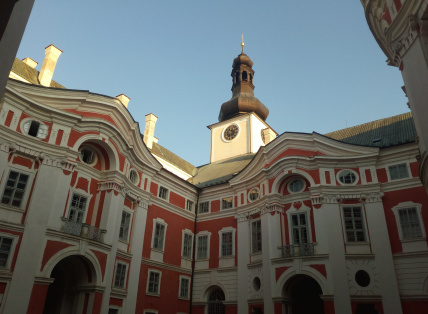 This Spring I am offering several workshops in Czechia. One day workshop Vocal Freedom and the Creative Expression week for drama students in Norwich. Finally, in collaboration with Anne M. Brownell, VMTR, a residential retreat workshop in the Czech mountains in August 2019.
For more information visit http://www.yourexpressivevoice.co.uk/
References:
Freedom from Your Inner Critic: A Self-Therapy Approach, Jay Earley and Bonnie Weiss
The Art of Mindful Singing, Jeremy Dion, 2016
Mindfulness: A Practical Guide to Finding Peace in a Frantic World, Mark Williams
Somatic Descent: Experiencing the Ultimate Intelligence of the Body, Reginald A. Ray
Tara Brach's work at http://www.tarabrach.com
By Sebastiana Black, VMTR, Norwich, East Anglia, UK
Sebastiana Black lives in Norwich, UK and conducts workshops in UK and in the Czech Republic.
Copyright 2019, all rights reserved.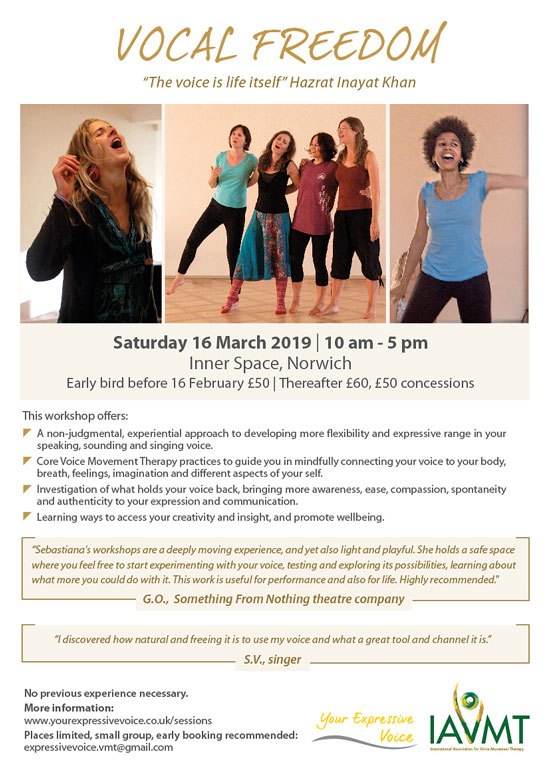 ---
---
---
News from Australia
From Trish Watts, VMTR, Sydney, Australia
Announcing INTO-ARTS STUDIO & GALLERY, Sydney, Australia
INTO-ARTS is a new studio that has been specifically designed to be inspiring, playful & supportive of creative experiences. The core services are arts-based psycho-social therapies for all ages and abilities.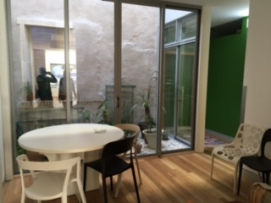 It's wonderful, at last, to discover a studio in Sydney that aligns with my needs as a Voice Movement Therapy practitioner.
I met the owner through an improvisational dance group. She is an Arts Therapist and was looking for a way to collaborate and expand what she can offer to the local people in the area.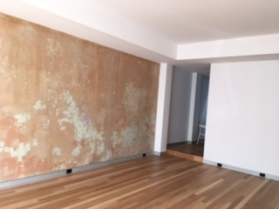 I can now make a noise without disturbing others & the space enables movement for 4-6 people easefully.
I've been piloting some one day workshops the past few months and we're going to meet soon with some other expressive arts therapists to see what we can provide as a collective.
Its early days, and its slow, however I feel very fortunate to have found this beautiful space and look forward to offering more workshops this coming 2019!
Trish Watts, VMTR, Sydney, Australia
#intoarts #VMTAustralia

copyright 2018, all rights reserved
---
---
---
News from United States of America
from Mali Sastri, VMTR, Boston, MA, USA
In 2018 I worked on one-on-one with seventeen individuals. Five of these were through the non-profit Tunefoolery, a community of musicians in mental health recovery where I give weekly VMT-inspired voice lessons to members. The rest of my VMT client work I did privately. I ran four Voice Lab workshops, two 5-hour day workshops, one 2.5 hour afternoon workshop, and one 4-week workshop that met 90 minutes per week. My experience with the workshops taught me my preference is for a full day – it allows more time for people to feel safe enough to go deep.
By Mali Sastri, VMTR, Boston, MA, USA
#voicelab #somervilleVMT #Tunefoolery
copyright 2019, all rights reserved
---
---
---
from Corinne de Langavant, VMTR, Oak Bluffs, Martha's Vineyard, MA, USA
In 2018 my Voice Movement Therapy practice infiltrated every aspect of my work, in both my personal and professional life. I start my day with "Chakra soundings" combined with the seven postures in the Yoga Sun salutations, which has really made a difference in my voice's flexibility and my confidence.
My music and singing sessions with the Senior day program have increased from once a month to three times a month. They really love it, and their voices have blossomed.
I have learned how to incorporate VMT into my Tai Chi classes at the YMCA, using voice to establish cadence and help with motor planning. Also using VMT working with folks with special needs such as Cerebral Palsy*, Autism, Asperger's Syndrome, Parkinson's and early Alzheimers whom I have had the honor to work with in 2018.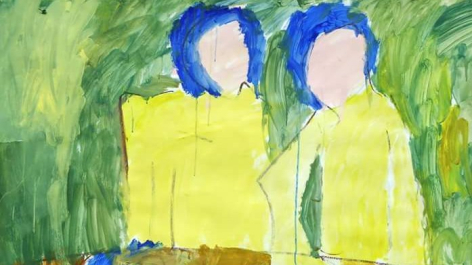 I've added another half- dozen greeting cards to my "Artism" card collection that features my twin cousins' artwork** and created several presentations, classes, workshops, and performances in local venues. Namely, classes and workshops for an Artist in Residence class at the local Martha's Vineyard Charter school, presentations in local arts collaborative, local libraries and, most recently, a class for the elderly to learn how to fall safely: "Aging Gracefully"*** at the YMCA.
Continuing Ed:
Conference:
"The Best Medicine is Free," Patch Adams, M.D. and Susan Parenti, DMA (Dr. of Musical Arts)
Certification:
Zero Balancing (a holistic body-mind therapy that amplifies each person's experience of health and vitality on all levels). Certification in spring 2018****
(* Lucinda, (age 9). ** P. Garner's 2018 art exhibit/ greeting cards sold locally to raise awareness and introduce VMT practices and principles. ***The three planes of circular motion and the 4 Stages of Sensory Integration by Bonnie Hanschu; (from The Use of Voice Movement Therapy in the Treatment of Autism 2010 by C. de Langavant).
by Corinne de Langavant, VMTR, Oak Bluffs, Martha's Vineyard, MA, USA
#VMTmarthasvineyard #artism #marthasvineyardisland
copyright 2019, all rights reserved
---
---
---
For more information on International Association of Voice Movement Therapy visit the website: http://www.iavmt.org.
To locate IAVMT practitioners in your area.
List of IAVMT Workshops offered in 2019 – United Kingdom, Denmark, Czech Republic, Australia, USA, Canada, and The People's Republic of China.