Kaaiman's River Blessing: in search of a sacred place
The Kaaimans river flows through the Outeniqua Mountains in the Western Cape of South Africa to reach the Indian Ocean near the village of Wilderness. In colonial times it was nicknamed "Keeromrivier" [or 'Turnabout River' in Afrikaans], because the rapid waters halted travel until a pass could be built in the 19th century. Since then it still remains largely pure and wild, and legends of the 'Kaaiman' (Water Spirit) persist.
In the creation of 'Kaaiman's River Blessing' I undertook to lead and organize an improvised performance in which the cast would engage with the theme of water. The sessions would enable them to explore and engage with parts of their own psyche using the medium of the voice. And through sharing this experiential material we hoped an audience could also connect with the site and the collective unconscious.
This project was my attempt to return to a place of embodied song and to help people reconnect with this state of being. My aim was not to imitate historic models or culturally specific traditions, but to see if, as modern individuals, we could lay aside our need for the concrete and be guided by an intuitive process.
The outcome was tremendously exciting and I felt that the aim of no-aim had been achieved. We had interacted spontaneously with the concept, the theme, each other, and ultimately with the environment and intuitive creation took place.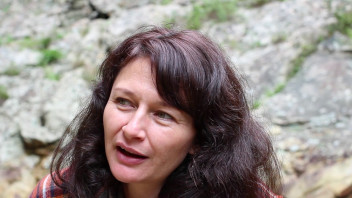 Voice Movement Therapy [VMT] provided the perfect platform for this project. The holistic and integrated nature of this discipline was integral to being able to journey to this deeply profound place. VMT was the container that allowed the deep water to be collected, giving us the opportunity to view our souls.
Please watch Kaaiman's River Blessing video to see more.
by Li Parker,VMTR
Wilderness, Western Cape, Republic of South Africa
copyright 2019, all rights reserved.